Project Description
Facing decreasing outlets for the disposal of biosolids generated at their wastewater treatment plants, Pasco County entered into a public-private partnership with Merrell Bros. LLC to construct and operate a Biosolids Treatment Facility that converts the waste into a marketable fertilizer. The unique Facility utilizes large greenhouse drying pods to dry the material through a combination of solar radiance, material agitation, and air exchange before pasteurizing the material in a two-pass belt oven to achieve Class AA biosolids standards. The treated biosolids are then sold as a bulk fertilizer under the tradename FloridaGreen®.
Pasco County (as the Owner) and Merrell Bros. (as the Operator) contracted with JMG Engineering to obtain the necessary environmental permits for the Facility and to provide peer review of the odor control performance guarantees specified in the Service Agreement between the County and Merrell Bros. JMG Engineering prepared the necessary permit applications and was also successful at demonstrating to the Florida Department of Environmental Protection that the Facility was exempt from air permitting requirements despite the fact that it utilized fifteen large carbon adsorption vessels for odor control.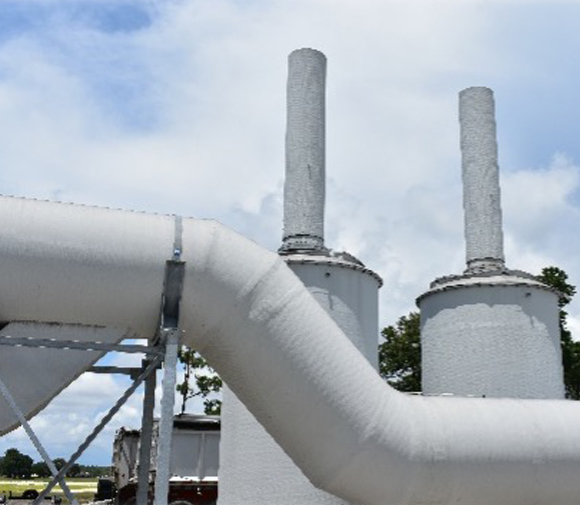 For the peer review element of the project, JMG Engineering evaluated the work products of another environmental consulting firm to identify the rationale that led to the odor control performance guarantees previously established in the Service Agreement. Establishing odor standards and/or guarantees can be a complex endeavor. Unlike traditional air pollutants such as SO2 or NOx, odor concentrations cannot be quantifiably measured for comparison to a standard (such as parts per million or pounds per hour). JMG Engineering worked collaboratively with the County, Merrell Bros., and the odor control system supplier to identify common-sense measures and practices to replace the overly prescriptive performance guarantee of the Service Agreement.

Project Benefits
JMG Engineering was able to demonstrate to the FDEP that air permits were not necessary for the Facility and was able to diffuse a potentially onerous contract dispute related to performance guarantees that were not established on sound air pollution control principals.