Project Description
Pasco County, Florida has long utilized an Integrated Solid Waste Management System to serve its citizens. The successful vertical integration of solid waste services such as recycling, transfer station operations, landfill disposal, waste‐to‐energy, and residuals management has resulted in Pasco County being consistently ranked high amongst of all Florida counties for the total recycling rate according to the Florida Department of Environmental Protection. Remarkably, such success has been achieved on a budget that is a fraction of the size of other Florida communities with similar Integrated Waste Management Systems.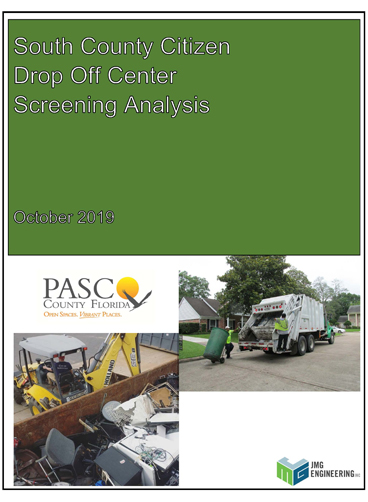 Pasco County has achieved such success while performing on a slim operating budget by partnering with JMG Engineering to serve in an "extension of staff" capacity. Working through individual Task Orders that define the scope, schedule, and budget of each assignment, JMG is able to complete routine services that would otherwise distract County staff from more important management duties. Some of the routine assignments that JMG has assisted Pasco County with through the Continuing Services Contract include:
Preparation of Water Quality Monitoring Plans and Evaluations for each landfill
Review of groundwater monitoring results
Preparation of groundwater contour maps
Review of CEM and Stack Test data for the Resource Recovery Facility
Permit renewals
Landfill Remaining Useful Life estimates
Project Benefits
As a small and efficient organization, JMG Engineering is able to assist Pasco County in complying with its routine compliance obligations without burdening the County's intentionally lean staff, allowing staff to focus on program management and strategic goals.